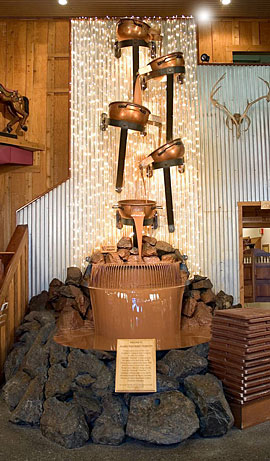 Alaska's 20-Foot
Chocolate Waterfall
IN 1994 WHEN PETER EDEN BUILT the new main store, he knew it would have to be really special. After all, Anchorage wasn't exactly a world-class tourism destination at the time. So working from Peter's vision, Homer artist Mike Sirl designed and built this "Chocolate Waterfall."
The falls incorporates over 3000 pounds of chocolate, authentic copper candy kettles, and a specially built warming and mixing system. The chocolate gushes out of the fountain head, cascades down the kettles, then settles in the swirling chocolate pool.
The chocolate itself is donated by the Peter's Chocolate Division of Nestle Foods and Guittard Chocolate Company.
And by the way, if you're tempted by the luscious smell to sample some of the flowing melted candy, please don't. The chocolate waterfall is for your visual enjoyment only. We have plenty of delicious chocolate at the candy counter to your left.